The Whitstable and Faversham Shotokan Karate Club established since 2000
With such a well established club you know you are going to have a great time and enjoy results above and beyond expectations, click here to see what our club members have to say...

Welcome from Sensei Chris

Thank you for stopping by our club website, I hope I will be able to cover any questions you may have in the following pages, regarding this fantastic activity of Traditional Shotokan Karate.

We practice and teach a traditional syllabus of practical Shotokan karate, focusing on the three k's, which are; Kihon, Kata, and Kumite, these three elements of good quality karate are like a triangle, giving you the strongest combination of skills for a greater understanding of the art, at this friendly and welcoming club.

Karate is a pastime and activity suitable for all ages and abilities, it will help with fitness, flexibility, core strength, and most importantly, confidence.

I have been running classes for both adults and juniors now since 2000, and have always taken pride in delivering interesting, informative, fun and practical lessons.

See our class in action…
Latest From The Blog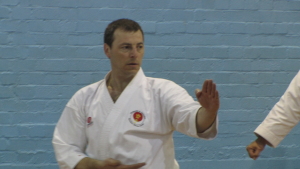 The next [...]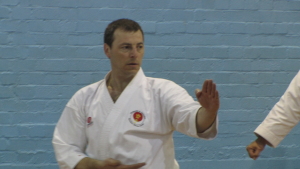 A great [...]
Decembers grading was another great success for both the Whitstable and Faversham club, [...]
Testimonials
After training for several years with a different club, a house move meant looking for a new club to train with. I was fortunate enough to find the Faversham and Whitstable Karate Club. I was warmly welcomed into the ranks and was pleasantly surprised at how friendly everyone was. During my time with the club, I've been encouraged not to accept my own preconceived limitations and to achieve more than I might have though possible. Sensei Chris Syrett has inspired my progress by example, through many an anecdote and with the motivating force of a personal trainer! I consider myself lucky to have trained at a good club, but through circumstance to have made the move to an excellent one.
The most awesomest guy in the world. Highly recommended, you cannot go far wrong with him as your Sensei and Mentor. (Richard Canton, chief Instructor Canton martial arts)

Richard
I love karate, it's so much fun and Chris is a brilliant teacher".)
I approached Sensei Chris in the spring of 2014, after taking a four year break from Karate. The first thing I noticed when walking through the door of Whitstable and Faversham Shotokan Karate club was the friendly and upbeat atmosphere. Even after training for twelve years it is still very daunting taking the first step inside a new Dojo; however; everyone was very welcoming and friendly.

The second thing I noticed (And I think the most Important) was the standard of the Karate. Having trained with clubs that focus more on pushing their students through the syllabus and getting coloured belts every three months; I quickly realised that wasn't what this club is about.

If you want lots of coloured belts; this club probably is not for you. If you want high quality traditional Shotokan Karate; taught at a pace that suits each individual student and in friendly surroundings; then what are you waiting for?

Andy M
"Karate has given me confidence in myself, and shown me I can do something very different and that I can still learn new things.

It has also given me goals to reach which aren't instant but something to be worked for. Karate is hard work and requires patience and determination, but well worth it. Karate has also helped me with my core strength and flexibility, Including faster reaction times, which has helped in my daily life, I tend not to drop things anymore! The best thing I have got out of Karate is lifelong friends who are my Karate family which is a fantastic thing to belong too".